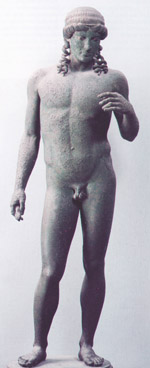 This large building (approx. 2,700 sq.m.) was created by joining two residential complexes which covered an area nearly equal to that of the whole insula.
The house can be entered both from Via dell'Abbondanza and from Via Stabiana. It is arranged around two atria and three peristyle, and its name derives from a bronze statue of Apollo playing the lyre (today in the National Archaeological Museum in Naples).
Magnificent paintings and bronze portraits of famous personalities also found in it and are now on shown in the same museum.
As is inferred from electoral propaganda and a number of graffiti, it belonged to the Popidius family.