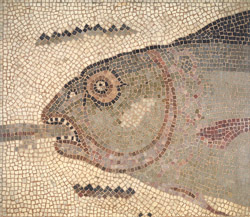 (Apic. 9, 10, 5) Ingredients:

Tuna fish fillets
3 tbsp strong vinegar
9 tbsp olive oil
4 finely chopped shallots
1 tsp pepper
1 tsp lovage seeds
25 g fresh mint
Instructions:
-------------
Put all of the vinaigrette ingredients into a jar and shake well to blend them together. Brush your tuna fillets with oil, pepper and salt, then grill them on one side over a hot barbecue. Turn them and brush the roasted side with the vinaigrette. Repeat. The tuna flesh should be pink inside so don't let it overcook. Serve with the remains of the vinaigrette.