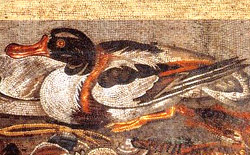 (Apic. 2, 4) Ingredients:

1 duck
25 g pine nuts
2 big dates
ground pepper
1 tblsp privet
1 tblsp cumin
1 tblsp dry coriander
1 tblsp dry mint
1 tblsp oregano
1 tblsp ground mustard
1 tblsp oil
1 tblsp honey
Liquamen or 3 tblsp soya sauce
3 tsp anchovy paste
1 glass wine (Marsala)
1 tsp vinegar
salt
Instructions:
-------------
Cut in part the duck cutting off fat and bones. Put in a large and low casserole. Mesh 6 ground pepper, privet, cumin, dry coriander, dry mint, oregano, pine nuts, dates and ground mustard. Add soya sauce, anchovy paste, olive oil, honey, wine, vinegar and salt. Mix with duck and add water almost until the top. Cook slowly, meshing sometimes, until water dry and sauce is thick.