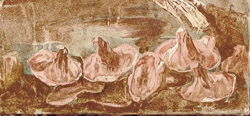 (Apic. 7, 13, 4) Ingredients:

4 lbs. mushrooms
1 bunch of coriander
4 cups of caroenum (red wine, simmered until reduced by about 1/2 cup)
Instructions:
-------------
Wash mushrooms and coriander. Halve mushrooms unless they're small. Place mushrooms and coriander in reduced wine and simmer 10 minutes. Remove coriander. Let cool and put away in the refrigerator for at least 24 hours.