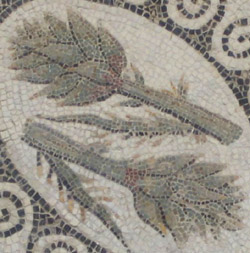 (Apic. 3, 19, 1) Ingredients:

Thistles*, a taft
Liquamen (or 5 tblsp soya sauce + 5 tsp anchovy paste)
5 tblsp oil
4 eggs
Instructions:
-------------
Clean, cut and boil the thistles. Boil eggs. Put in a pan Liquamen and oil, mesh and boil. Put the thistles in the sauce and cut eggs over it. Cover and leave it marinate for half an hour, without boiling. Serve hot.
*It's possible to use artichoke instead of thistles.