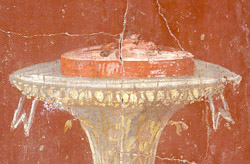 (Apic. 7, 11, 4) Ingredients:

140 gr plain flour
1 tsp baking powder
½ tsp ground rosemary
1 tsp cinnamon
70 gr ground almonds
50 ml white grape juice
50 ml passum(or other 50ml white grape juice)
2 tbsp honey
Milk
Chopped hazelnuts
Instructions:
-------------
Mix the flour in a bowl with the baking powder. Add the rosemary, almonds and cinnamon to the bowl. Mix well. In a measuring jug mix the wine with the grape juice and honey. Add enough milk to the jug to make the liquid up to 200mls / 8flozs. Pour the liquid into the dry ingredients and mix well. Pour the mixture into a well greased 22cms / 9 inch round tin. Bake at 190ºC/ 375ºF/ Gas Mark 5 for about 30 minutes. When the cake is still warm, spread liquid honey over the top and sprinkle it with chopped hazelnuts.