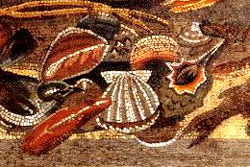 (Apic. 9, 9) Ingredients:

1 kg fresh sea mussels
100 ml Liquamen or 1/2 tblsp salt
1 branch of leek, finely minced
1 tsp cumin
200 ml Passum (or honey)
1 tblsp minced Savory
500 ml white wine
ca. 500 ml water
Instructions:
-------------
First water mussels, and clean them. Mix together Liquamen, wine, water, Passum and spices. Boil the broth for about 20 minutes, then add mussels. Boil additional 10 minutes. Serve.