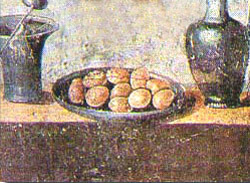 (Apic. 7, 19, 3) Ingredients:

8 hard boiled eggs (not too well done - boil ca. 4 minutes)
50g stone-pine kernels
2 tblsp honey
3 tblsp vinegar
pepper
Privet
Liquamen (or salt)
Instructions:
-------------
Dressing for boiled eggs: Mix together pepper, Liebstoeckl, soaked pine
kernels. Add honey and vinegar and season with Liquamen. Serve together
with the eggs.