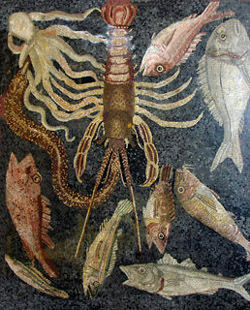 (Apic. 2, 1, 6) Ingredients:

Cooked, shelled prawns (the original recipe uses scallops, but you can use and seafood)
Pinch of pepper
Liquamen (or soya sauce)
Egg, beaten
Cooked spelt
Flour
Salt
Black pepper to taste
Instructions:
-------------
Mash the peeled prawns in a bowl. Add the pepper, Liquamen, cooked spelt and the beaten eggs. Mix well and shape into patties. Roll in seasoned flour and fly gently in oil until browned on both sides.