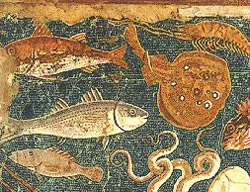 (Apic. 7, 19, 3) Ingredients:

500g fish fillet (e.g. salmon)
250ml white wine
500ml beef broth
3 leek branches (I hope branch is the correct expression...)
100ml oil
Liquamen or salt, coriander, pepper, Liebstoeckl, Oregano to taste
a little bit of starch or flour to thicken the sauce
Instructions:
-------------
Put the fish in a pan, add Liquamen, oil, wine and broth. Chop leek
branches and coriander. Chop fillets into a kind of fish goulash.bszRC
Cook approximately 30 minutes on small to moderate heat. When well done
ground coriander, Liebstoeckl and oregano and add to the fish fricassee.
Boil again shortly. Then thicken sauce with starch, sprinkle pepper on
the fricasse and serve.