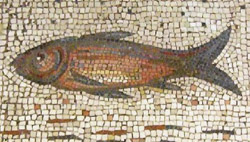 (Apic. exc. 7) Ingredients:

6 whole herring or mackerel, gutted (or 4 cod fillets)
4 turnips
2 + 2 tbsp olive oil
100 + 300 ml white wine
150 ml water
20 g butter
1 tsp cumin seeds
1 tsp laurel berries (or juniper berries)
Pinch of saffron
1 tbsp cornflour
Instructions:
-------------
First peel the turnips and boil until soft. Pour off the excess water and mash them with butter. Spread this mash on a serving plate. Fillet the fish and poach them lightly in a mix of white wine, water and olive oil (should take about 15 minutes). Remove them from the stock and place on top of the mashed turnips. Reserve the stock to make the saffron sauce. To make the saffron sauce, grind together the cumin and laurel (or juniper) berries in a pestle and mortar. Combine this with the white wine, honey, about 60ml of the fish stock and the olive oil. Bring to the boil and turn down the heat. Add the cornflour and whisk in to mix. Simmer for 25 minutes to thicken, add a pinch of saffron for colour and pour over the fish.