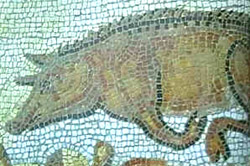 (Apic. 8, 7, 8) Ingredients:

1 suckling pig
Pepper
Lovage (or chopped celery leaves)
Caraway seed
Celery seed
Rue
2 drops asafoetida essence
3 tsp Liquamen (or soya sauce)
3 tbsp white wine
1 tbsp Passum
2 tbsp olive oil
1 tbsp cornflour
Instructions:
-------------
Clean the pig, sprinkle with salt and roast at 180°C for 55 minutes per kg plus 50 minutes. While the pig is cooking grind the herbs and spices together in a pestle and mortar. Add the asafoetida essence and the Liquamen to this, mixing it in well. Then blend in the wine and the passum. Place this sauce in a pan and bring to the boil. Thicken with two teaspoons of cornflour mixed with a little water. Add the juices from the pig to this sauce, bring back to the boil and simmer until thickened. Pour the sauce over the pig and sprinkle with ground celery seeds before serving.