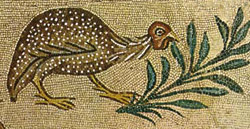 (Apic. 6, 8, 13) Ingredients:

1 whole chicken
2 + 1 tbsp liquamen
2 tbsp oil
1 cup white wine
5 bunch coriander
1 onion
3 + ˝ tbsp honey
1 cups milk
1 tsp pepper
1 tsp lovage (or celery)
1 tsp oregano
Flour
Salt to taste
Instructions:
-------------
Sprinkle chicken with salt and pepper and cook in oven, 200° for 70 minutes, adding liquamen, oil, wine, coriander and onion; stir until smooth; drain the cooking liquor and reserve. Heat milk, honey and salt; melt water and flour to make roux and add to milk; mesh repeatedly and cook for 15 minutes on low heat. In another pan, heat the cooking liquor, a little bit of honey, pepper and all the erbs, a little bit of wine; if necessary, thicken the sauce with flour. Put the chicken, cutted in pieces, in the milk sauce and pour all over the cooking liquor. Serve.