WHO WE ARE
DARIO DAVIDE
CURRICULUM VITAE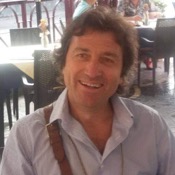 BIOGRAPHY:
My name is Dario Davide and I live in Sorrento, in the bay of Naples (Italy).
I have a University Degree in Foreign Languages specializing in History ("Orientale" University - Naples)
I have another (the second) University Degree in Archaeology ("Luigi Vanvitelli" University of Santa Maria Capua Vetere)
I'm an Official tour guide of the Campania Region since 1996.
I've been working as archaeological guide for 25 years in Pompeii, Herculaneum, Oplontis, Archaeological Museum of Naples, etc.
Expert in Roman archaeology: we can arrange for you a tailor-made tour, specifically for you.
As an archaeologist, I had the pleasure of participating in excavation campaigns in extraordinary places such as Cumae and Stabiae.
Cumae is the first Western Greek colony (8th century BC): from this place the Greek alphabet was handed down to the Etruscans and Romans. The Romans then "romanized" the Greek alphabet and when they conquered the countless territories of their empire, they transmitted their alphabet to the entire Western world. So we could say that Cumae is the "cradle" of Western culture .
Stabiae was an ancient Roman city near Pompeii and Herculaneum. Also Stabiae was buried by the eruption of Mt Vesuvius on August 24, 79 AD.
Scholars believe that it was a very elegant city made up of numerous patrician villas. One of them (Villa di Arianna) was partially excavated by a Russian archaeological team from the Hermitage Museum in St. Petersburg. In 2019 at this archaeological campaign I had the honor of participating.
WHY A REAL ARCHAEOLOGIST FOR YOUR PRIVATE ARCHAEOLOGICAL TOUR TO HERCULANEUM AND POMPEII ?

Such extraordinarily well-preserved places such as Pompeii, Herculaneum, Stabiae and Oplontis deserve a professional who knows the world of ancient Rome well and can make your visit unique. If you are passionate about the history of ancient Rome, visit the archaeological sites of Pompeii, Herculaneum, Stabiae, Oplontis, the National Archaeological Museum of Naples with a guide who is also a historian and an archaeologist.
CREDENTIALS:
Historian - University "Orientale" of Naples (Italy)
Archaeologist - University "Luigi Vanvitelli" of Santa Maria Capua Vetere (Caserta) - Italy
Official licenced guide of Campania Region (Italy)
Official licenced tour leader
Participation in the archaeological excavations of Cuma 2018 with the Luigi Vanvitelli University of Santa Maria Capua Vetere (Caserta) - Italy
Participation in the archaeological excavations of Stabiae in June/July 2019 in collaboration with the Museum of Hermitage in Saint Petersburg - Russia
SCIENTIFIC AND RESEARCH ACTIVITIES:

Origin of Pompeii
Origin of Neapolis (Naples)
Aqueduct of Pompeii and Herculaneum
Roman Mortar
Roman Environment in Pompeii and Herculaneum during the I century A.D.
Urban Planning of Pompeii
Urban Planning of Neapolis (Naples)
Magna Graecia (Μεγάλη Ἑλλάς) and Sicily of the ethnic cultures