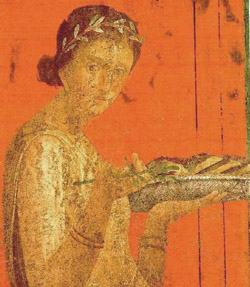 (Apic. 7, 13, 5) Ingredients:

250 g coarsely ground nuts
100 g coarsely ground stone-pine kernels
3-4 tblsp honey + honey to drip on afterwards
1 tsp minced rue
50 ml Passum (or wine or grape juice honey)
50 ml milk
2 eggs
Instructions:
-------------
Mesh pepper, pine kernels, honey, rue and Passum with milk and eggs, and boil the dough. Serve topped with honey and sprinkle with pepper.