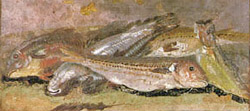 (Apic. 10, 1 ,12) Ingredients:

1.5 kg red mullet
Rue
Mint
Coriander
Fennel
Lovage (or celery leaves)
Honey
Olive oil
Liquamen (or white wine)
Ground black pepper
Instructions:
-------------
Create a parcel using greaseproof paper by folding a sheet in half and repeatedly folding the sides to seal. Put the fish inside; add the olive oil, salt, pepper, Liquamen. Close the top of the parcel and bake for 30–40 minutes at 170°C until cooked. Finely chop the herbs and combine with honey, a little bit of olive and wine. Add to a saucepan, bring to the boil and simmer for 25 minutes to reduce. Pour this sauce over the baked mullet and serve immediately.