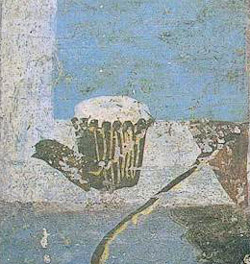 (Apic. 2, 2, 10) Ingredients:

200 gr. spelt
50 gr. pine-kernel
50 gr. peeled almond
50 gr. raisins
1/2 glass Passum (or passito wine)
Ground pepper
Instructions:
-------------
Soften spelt in water for a long while (12 hours). Then wash and coarsely shatter. Add pine-kernel and peeled almond and cook until spelt is soft. Add raisins and Passum and amalgamate all. Pour into individuals pans and spread with pepper. Serve cold.