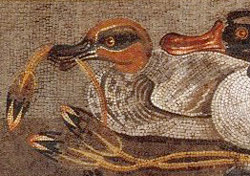 (Apic. 6, 2, 1) Ingredients:

1 large duck
1 l water
bunch of dill
Olive oil (or 50 g butter)
Liquamen (or, in this case, duck stock)
2 sprigs of oregano finely chopped
bunch of coriander
100 ml defritum (or red wine boiled)
large pinch of black peppercorns
large pinch of lovage (or celery seed)
large pinch of cumin
large pinch of coriander seeds
1 laser root (or garlic)
Sprig of rue (or rosemary)
Caroenum (wine reduced of 1/3 plus honey)
Honey
Red wine vinegar
Flour
Salt
Instructions:
-------------
Place the duck in a stock pot and cover with water. Add the dill and salt and bring to the boil. Simmer for 30 minutes and remove the bird from the pot, reserving the stock. Place the duck in a roasting tin and season with a mixture of oil and about 150 ml of the original stock and the chopped coriander and oregano. (At this point an 'Apician' stuffing composed of chopped sausages, damsons or dates, chopped almonds and spices may be placed in the bird). Roast the duck at 180°C for 1½ hours, basting from time to time. For the final 30 minutes of cooking add the boiled red wine to the roasting pan.
To make the sauce grind the peppercorns, celery seeds, cumin, coriander seeds and laser root with a pestle and mortar. Add the chopped rue and grind these in as well. Add the Caroenum, honey and vinegar to this. Pour the mixture into a saucepan. Remove the duck from the oven and set aside to rest. Pour 150ml of the duck gravy into the sauce, add a tablespoon of flour to thicken and bring to a gentle simmer. Carve the duck and place on a platter. Pour the sauce over the top and serve.