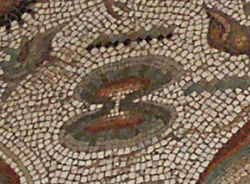 (Apic. 9, 6) Ingredients:

3-4 oysters per person
pinch of pepper
pinch of ground lovage (or a large pinch of chopped celery leaves)
2 egg yolks
1 tbsp white wine vinegar
1 tbsp Liquamen (or soya sauce)
1 tbsp white wine
1 tbsp olive oil
1 tbsp honey
Instructions:
-------------
Buy fresh oysters in their shells and open these carefully with an oyster knife as close as possible to the time of eating. Depending on your preference the oysters can be served raw or steamed or grilled in their shell. To make the sauce mix the pepper and lovage with the egg yolks. Add the vinegar a drop at a time to this mixture, whisking each time, until a smooth mixture is achieved. Next add-in the olive oil and the Liquamen. Add honey if desired and pour over the oysters. Serve immediately.