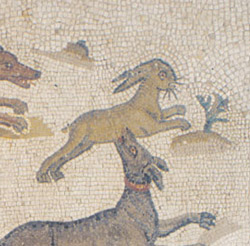 (Apic. 8, 8, 3) Ingredients:

1 whole hare or rabbit
225 g whole pine kernels
100 g shelled almonds
100 g chopped mixed nuts
25 g peppercorns
2 eggs, beaten
Rue (or celery leaves)
1 small onion, chopped
100 g stoned dates, chopped
1 tbsp Liquamen (or soya sauce)
2 tbsp spiced wine (basically mulled wine)
Instructions:
-------------
Mix together the pine kernels, almonds, chopped nuts, peppercorns and the chopped giblets of the hare or rabbit. Bind this mixture with the eggs and use it to stuff the body cavity of the hare. Wrap the hare in a parcel of baking foil and cook in a hot oven at 190°C for about an hour and a half. Make a sauce by placing the onion, dates, Liquamen, spiced wine and the cooking juices from the hare in a saucepan. Bring this to the boil and allow simmer for at least 20 minutes until thickened. Pour over the hare and serve.