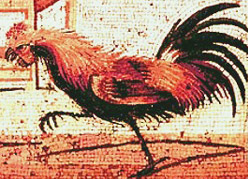 (Apic. ) Ingredients:

1 fresh chicken (approx. 1-1.5 kg)
300 g minced meat (half beef, half pork)
100 g groats (of oat)
2 eggs
250 ml white wine
1 tblsp oil
1 tblsp privet
1/4 tsp ground ginger
1/4 tsp ground pepper
1 tsp green peppercorns
50 g stone-pine kernels
Liquamen or salt to taste
Instructions:
-------------
Mesh ground pepper, privet, ginger, minced meat and cooked groats. Add eggs and mix until you have a smooth mass. Season with Liquamen, add oil, whole peppercorns and stone-pine kernels. Fill this dough into the chicken. Cook approximately 1 hour with 220 deg C in the oven.