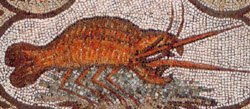 (Apic. exc. 17) Ingredients:

500 g cooked and prepared big shrimps
1 tsp green pepper
1 tblsp Privet
1/2 tsp ground celery seeds
2-3 tblsp vinegar
100 ml Liquamen (or 1/2 tsp salt)
4-5 hacked hard-boiled egg yolks
Instructions:
-------------
Cook shrimps. Then mesh ground pepper, celery seeds and privet. Pour vinegar, Liquamen and egg yolks over it and mix thoroughly. Pour the mixture over the shrimps and serve.