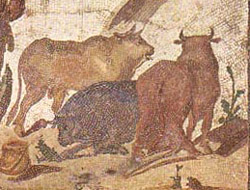 (Apic. 2, 4) Ingredients:

300 g minced meat (with fat)
100 g pine nuts
Pepper
Cumin
Rue
Parsley
Savory
Bay (or juniper) berries
2 tbsp Liquamen (or soya sauce)
Sausage casings
Instructions:
-------------
Cut meat and fat into chunks and place in a bowl. Sprinkle with pepper, cumin, savory, juniper berries, and liquamen. Mix with hands so that all chunks are well-coated with spice mixture. Break stems from parsley, and break each sprig into 3-4 pieces. Add to meat mixture and toss. Put meat mixture through meat grinder, or grind with a food processor. Mix in pine nuts and stuff into sausage casings. Finished sausages may be grilled, boiled, roasted, or smoked.