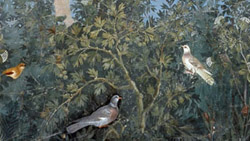 (Apic. 1, 35, 1) Ingredients:

Mint
Rue
Coriander
Fennel
Lovage
Pepper
Honey
Liquamen (or 3 tblsp soya sauce + 3 tsp anchovy paste)
Vinegar
Instructions:
-------------
Smash and homogenize all the spices. Add honey and Liquamen and mix it all. Taste and, if necessary, add some vinegar. Serve with bread.