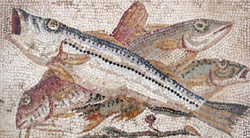 (Apic. 4, 2, 12) Ingredients:

Leftovers of cooked fish
5 grains pepper
5 leaves rue
Liquamen (or 2 tblsp soya sauce + 2 tsp anchovy paste)
2 tblsp oil
2 eggs
Seaweed
Instructions:
-------------
Finely chop enough baked or boiled fish to fill a casserole dish of the size you want to use. Pulverize pepper and rue, add Liquamen, oil and raw eggs, then whip. Pour the mixture over the fish and mesh. Gently place sea nettles on top, taking care to see they do not mix with the eggs. Cook by steaming so that the seaweed and the eggs may not mix. When they have become firm and dry, sprinkle it with ground pepper and serve.