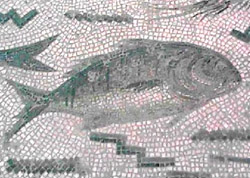 (Apic. 4, 2, 28) Ingredients:

1 sole fillet per person
Olive oil
White wine
Pepper
Lovage (or chopped celery leaves)
Oregano
Liquamen (or soya sauce)
Eggs
Instructions:
-------------
Place the sole fillets in a shallow pan. Add the olive oil, white wine and liquamen. Place the fish in an oven for about 20 minutes at 150°C to poach. Whilst the fish is cooking place a pinch of peppercorns, lovage and oregano in a pestle and mortar. Grind well. Add a ladle of the fish poaching liquor to this along with the eggs and work into a smooth mixture. Pour this mix over the soles and return to the oven. Sprinkle with pepper and serve.