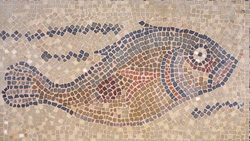 (Apic. 4, 2, 27) Ingredients:

1 whole firm-fleshed fish
200 ml fish stock
30 ml white wine reduced
Liquamen to taste (or soya sauce)
2 tsp olive oil
1 sliced leek
1 tsp coriander seeds
large pinch of black peppercorns
1 tsp lovage (or celery seeds)
1 tsp chopped fresh oregano
2 raw egg yolks
twist of black pepper
Instructions:
-------------
Fillet the fish and add these to a pot before topping with fish stock, wine, olive oil, liquamen and the leek. Bring this mixture to a boil, cover and simmer over a low heat for about 10 minutes. Meanwhile grind the coriander, pepper and lovage in a pestle and mortar. Add the oregano and mix to a paste. Add these seasonings to the stew and simmer for a further five minutes. Beat the egg yolks together and add this little by little to the stew to thicken it. Simmer the mixture for a further ten minutes then serve with a sprinkling of ground pepper.