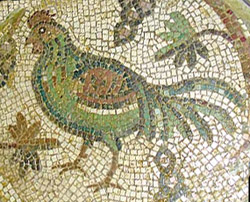 (Apic. 6, 8, 11) Ingredients:

1.4 kg chicken thighs and drumsticks
3 tbsp Liquamen (or soya sauce)
1 tbsp olive oil
250 ml fruity white wine (eg chablis)
white peppercorns
150 g pine nuts
whites of two boiled eggs, mashed with a fork
60 ml cooking liquid
60ml/120ml milk
Instructions:
-------------
Cook the chicken by placing in a roasting tin, covering with the Liquamen, olive oil and white wine. Cover with a lid and bake at 180°C for 90 minutes or until the chicken is done. Drain the cooking liquor and reserve. Meanwhile, add the peppercorns, pine nuts, and egg whites to a pan. Pour the remaining cooking liquor from the chicken into this along with 60ml milk (for a thick sauce) or 120ml milk for a more liquid sauce. Gently heat the mixture, stirring all the time. When it is thick enough place the chicken pieces on a plate and cover with the sauce.