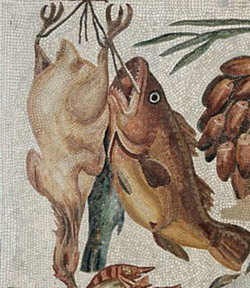 (Apic. 9,10 ,10) Ingredients:

250 gr. mixed livers (chicken, hare, lamb)
Ĺ tsp ground pepper
Salt
Oil
Instructions:
-------------
Cook the mixed livers in a little bit of water or broth. Drip and whip, adding pepper, salt and oil until You obtain the desired thickness. Press into an oily fish-shape mould. If it should be preserved for a long while, cook in oven, 110įC, for 30 minutes. Keep in the fridge. Sprinkle with virgin oil before serve.