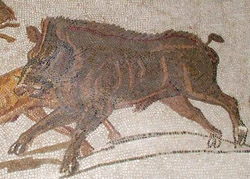 (Apic. 8, 1, 9) Ingredients:

Large joint of Boar
pinch of black peppercorns
large pinch of lovage
large pinch of celery leaves
large pinch of rue
pinch of cumin seeds
pinch of fennel seeds
pinch of origany
1 garlic
Liquamen (or salt)
150 ml passum (or, in this case, pork or chicken stock)
100 ml red wine
1 tbsp honey
Starch
Instructions:
-------------
Roast the boar (2 hours for kilo) in oven 180° C. Meanwhile, place all the herbs and spices in a mortar and grind together with a pestle. Blend this in a bowl with Passum, Liquamen, wine and honey. Pour this sauce into a bowl, bring to the boil then allow to simmer for 25 minutes. Thicken the sauce with a tablespoon of starch and allow to simmer for a further five minutes. When done, take the roast boar from the oven, sprinkle with the celery seed and allow to rest for ten minutes. Carve the meat and serve immediately with the sauce.